Hope – Herpes Dating App is a great choice if you want to get back into the dating scene after learning that you're living with herpes or another STD. It doesn't claim to be the number one dating site out there unlike competitors such as Positive Singles, but it does offer some great features and it's very easy to use. Best of all it only takes a couple of seconds to sign up and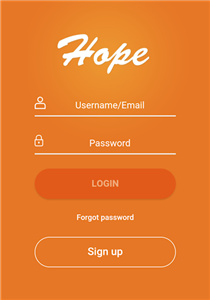 you'll be climbing right back into the dating world. It's always tough dealing with this type of disease because of the social stigma attached to it, so it's definitely comforting knowing there are others just like you out there just as interested in finding the right person. This is a free app and it's compatible with the iPhone, iPad, and iPod Touch.
Getting Started
To get started with this Free Herpes Dating App you'll have to answer a few basic questions about yourself first – things such as your gender, your age, and the age range and sex of the companion you're looking for. You'll also need to provide a valid email address in order to validate your registration or you can connect with your Facebook account. This helps to weed out people that are less than serious about the site – let's face it building up the courage to get back into the dating world is tough enough without having to worry about people that aren't really taking it seriously. However, if you are just getting your feet wet in the dating pool again this app is a great place to start as it really is completely free!
The user interface is pretty good, the only issue I had with it is that it always defaults to something called the Hot List when you open the app – it's not that this is a bad feature, it's just that it doesn't seem like the right place to start for someone that's just starting out with the app. It would be better if it started out with an introduction of the apps major features instead. The other thing that's a little problematic with this app is that it's not always easy to narrow your choices down to people that actually live near you – even after entering my current location I was still continuously matched with individuals right across North America.
Some Great Features
One of the best features of this app is the matches section – here you'll find profiles of potential matches that you can easily scroll through by tapping on the arrow in the bottom navigation menu. The profiles are dominated by a full screen photo of your potential match and you can start up a chat with them instantly by tapping on the message icon, you can also view their full profile at any time by tapping on that option to view more photos or to find out a little bit more about them. You can bookmark your favorites if you want to go back and view them later as well.
If you tap on the settings menu in the top left corner you'll find your other available options. Here you can edit your profile, checkout your bookmarks, take a look at the Hot List, and check your messages as well. Keep in mind all of these features are completely free, which is something you won't find in too many other similar dating apps.
Benefits and Drawbacks
Benefits
The app is completely free
Requires email verification of your registration
Features a Hot List
Potential match profiles are dominated by full paged photos
Drawbacks
Defaults to Hot List
Doesn't do a great job of finding matches geographically close to you
Final Verdict
Hope has some great features and in spite of a couple of minor issues is still a great choice if you're looking for a herpes dating app. What's great about this one are the nice big profile pictures of potential matches, and of course it's free. It's a great way to get yourself back involved in the dating world.
Get Hope free herpes dating app at Google Play Store: