If you've tried other herpes dating apps such as Hope, or Positive Singles and come away with the feeling that they could be a little more user friendly then Hdate may be just the app you're looking for. All of these apps offer a place where people living with herpes or another STD can go to find a companion in the same situation, but Hdate is an app that seems to go that extra mile. It has a great user interface that is simple and intuitive, and they value your privacy as well.
This is a free app and it's compatible with the iPhone, iPad, and iPod Touch.
Getting Started
As you'll find in other herpes dating sites, you have to provide your email for verification purposes before you can begin using the Hdate app. The whole registration procedure is pretty straightforward and they walk you through every step of the way. What's great about this app is that it provides a place in your profile where you can verify your identity with proof of who you are, this allows others to feel more comfortable connecting with you knowing that you're who you say you are.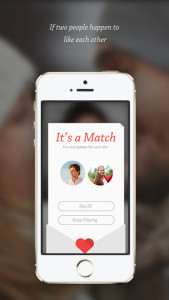 The user interface is also excellent in this app. It's set up as sort of a dating game – you just hit play and you're given a group of potential matches to go through. Each profile features a picture and some basic profile information of your potential match. If you like what you see you swipe to the right to save them to view later, or if you'd rather move on simply swipe them to the left to move on to the next profile. Before you can connect with someone you like they will have to like your profile as well, so there's no guarantee that you'll actually get to connect with someone you find interesting. Each group of potential matches contains a limited number of people, and unless you've signed up for apremium membership you will have to wait a period of time to move on to the next round – you're also limited to three rounds a day in the free version.
Other Great Features
There's something called a Moments section which you can access by tapping on the menu icon in the top left corner at any time. This is sort of a social meeting place where anyone can go to express themselves, let people see what they like and dislike, or just to share some of their favorite things. There's also a great FAQ page which can be accessed from the menu as well which will answer most of your questions. You can edit your profile from the menu section as well.
Benefits and Drawbacks
Benefits
Requires email verification of your registration
Approaches finding a match as a fun game
You can swipe right to like someone or left to move on
Includes ID verification to ensure people are who they say they are
Drawbacks
Access to all features requires a subscription
You can only access three rounds of matches a day in the free version
Final Verdict
Hdate is a very unique herpes dating app. It turns finding a match in to a fun dating game while still treating the whole process very seriously. There's also a great social meeting place called Moments. This is definitely an app you'll want to check out if you're looking to get back into the dating scene after finding out that you're living with an STD.
Get Hdate app on App Store: